[ezcol_1third]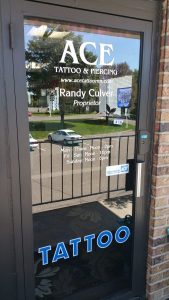 [/ezcol_1third][ezcol_1third]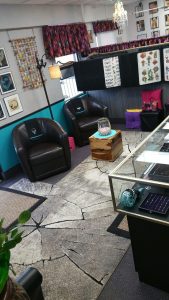 [/ezcol_1third][ezcol_1third_end]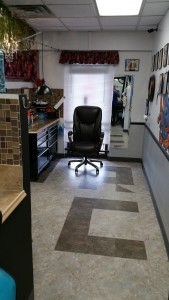 [/ezcol_1third_end]
[ezcol_1third][/ezcol_1third][ezcol_1third]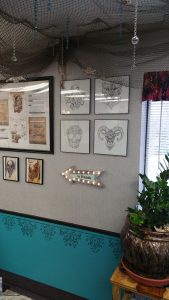 [/ezcol_1third][ezcol_1third_end]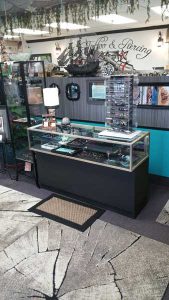 [/ezcol_1third_end]
[ezcol_1third]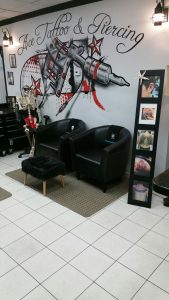 [/ezcol_1third][ezcol_1third]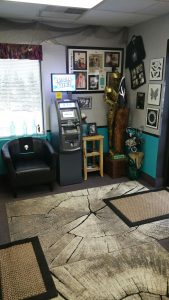 [/ezcol_1third][ezcol_1third_end][/ezcol_1third_end]   
ACE TATTOO & PIERCING is located on the southeast corner of Hwy. 169 and Medicine Lake Rd. in Golden Valley, MN, across the street from McDonald's in the Sunny Hollow Shopping Mall. Our address is 2504 Hillsboro Ave. No., Golden Valley, MN 55427. Ph: 763-595-8484, Hours: Mon.-Thurs. 12-8,  Fri.-Sat. 12-10,  Sun. 12-6.
Randy Culver opened ACE TATTOO & PIERCING realizing that a niche in the tattoo industry needed to be filled. Personal service and tolerance for all people were important and he wanted to create a special place where everyone would feel comfortable receiving their sacred mark.
Tattoos: Since 1986, ACE TATTOO & PIERCING has been a passionate provider of specialized, artistic tattoo designs, cover-up tattoos, and permanent make-up. We also specialize in consulting and piercing services. ACE TATTOO & PIERCING offers the most personal service a tattoo studio has to offer along with a clean, friendly, relaxing, and drug-free environment.
A tattoo represents more than an image, it represents you. ACE TATTOO & PIERCING understands the importance of a tattoo for you so our professional, creative, veteran artists handle each tattoo session with the utmost care. Our tattoo shop is made up of tattoo experts who are fully licensed and regulated by the Department of Environmental Health. We use strict hygienic procedures for each tattoo session and always leave our customers pleased with our work.
ACE TATTOO & PIERCING offers an extensive portfolio of tattoos including custom tattoos, tribal, fantasy, symbols, calligraphy, shapes, animals, mystical & astrological, cartoons, sports & athletics, flowers & butterflies, watercolors, and much, much more. Our artists can bring any style of tattooing to life including your own design.
ACE TATTOO & PIERCING also offers a topical cream anesthetic which makes getting a tattoo entirely painless starting at $40.00. More…
ACE TATTOO & PIERCING has been tattooing longer than anyone because we do it better than anyone.
Piercings: Our staff handles your piercing with utmost care and precision, from start to finish. We use the latest tools and state-of-the-art hygiene procedures to provide you with the best piercing around. We are skilled in providing piercings with gentle hands, making your comfort and experience at ACE TATTOO & PIERCING a priority. More…
Cosmetic Tattooing: Permanent makeup is a simple cosmetic technique that employs tattoos as a means of producing designs that resemble makeup. Permanent makeup can also be used on other parts of the body, such as to restore or enhance breasts after augmentation, reduction or mastectomies. All in all, permanent makeup is a great way to look good and feel beautiful without the daily routine or to simply enhance areas you wish to change. Contact us anytime to discuss our permanent makeup services. More…
Tattoo Cover-Ups or Touch-Ups: Whether you want an existing tattoo covered up or just a touch-up, it can be done. Our talented and experienced artists can help you. You will need to visit our studio and talk to one of our professionals regarding the different options that are available with your existing work. Every situation is different and we will use all of our skills to achieve the exact results you will be happy with. More…
Nipple Areola Tattooing: ACE TATTOO & PIERCING offers breast cancer warriors, women who have battled mastectomies, and extremely detailed nipple-areola tattooing. Implants have given you back your shape. Let ACE TATTOO & PIERCING give you back your nipples and areolas using our detailed tattooing techniques in a safe, sterile, and attractive environment. You can never replace your real breast but you will find comfort in knowing that you can have the next best thing. More…
ACE TATTOO & PIERCING has been in Golden Valley on the corner of Highway 169 and Medicine Lake Road for over 35 years. We are open Monday Wednesday and Thursday from Noon to 8:00 PM, Friday and Saturday from Noon to 10:00 PM, and Sunday from Noon to 6:00. If you would like to make an appointment for a piercing call us at (763) 595-8484. If you would like a tattoo you must send us your name, an image, size in inches, and where on your body you want it via text or email and we will get right back to you.