[ezcol_1third]
[/ezcol_1third] [ezcol_1third]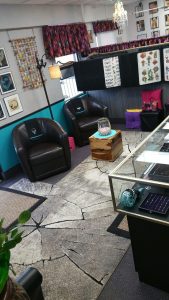 [/ezcol_1third] [ezcol_1third_end]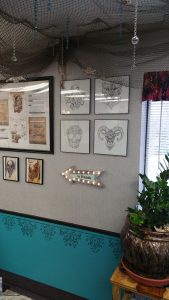 [/ezcol_1third_end]
[ezcol_1third]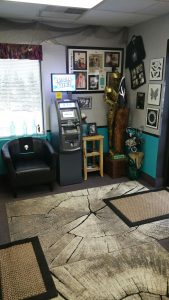 [/ezcol_1third] [ezcol_1third]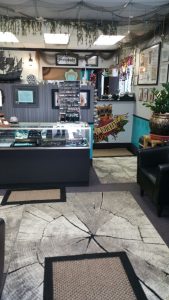 [/ezcol_1third] [ezcol_1third_end]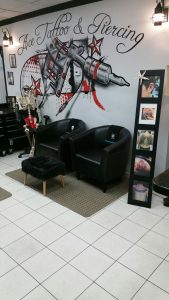 [/ezcol_1third_end]
Welcome to ACE TATTOO & PIERCING. We are not only the oldest and most prestigious shop in Minnesota, we are the hottest shop around nestled in by the five cities of Crystal, Golden Valley, Maple Grove, New Hope, and Plymouth.
Randy Culver opened ACE TATTOO & PIERCING in 1986 with a vision to provide a unique tattoo studio environment that focuses on custom tattooing, cover-up tattoos, original tattoo art, cosmetic tattooing, and stunning nipple/areola tattooing for cancer survivors. Randy has made significant contributions of quality, professionalism, and public image to the world of tattooing. Personal artistic expression has advanced to a high level of individuality, competence, accessibility, and acceptance due to Randy's talented hands.
Whether you want a tattoo or a piercing, it is a uniquely personal statement. You will feel at home in the pristine environment of ACE TATTOO & PIERCING and leave with a body modification that far exceeds your expectations.
Tattoo ink goes deep into your heart and soul. Make sure you are secure in your decision and truly desire a permanent image. Receiving and wearing a tattoo is a life-altering experience. Tattoos leave their mark, as they should, and are not easily changed.
At ACE TATTOO & PIERCING there are no inflated egos or inflated price schedules. Our clients are met with dedicated and renowned artists who will work with you to create the perfect personal adornment to suit your life priorities. No matter what your style, whether small or large tattoos, bold colors, or black and gray, Randy can accommodate your unique specifications. They are artists who share the same mission: "To give you a fantastic tattoo experience." You are guaranteed to get premium artwork and quality ink in a licensed and safe environment. DREAMS REACHED FOR BECOMING REALITY!
Your ACE TATTOO & PIERCING tattoo will be done in a manner that exceeds all health regulations. ACE TATTOO & PIERCING is licensed annually by the Hennepin County Health Department. ACE TATTOO & PIERCING submits monthly samples to a contracted laboratory for spore testing of their autoclave sterilizing equipment. Needles are single-use for each client, inks are individualized for each recipient and each finished tattoo is cleaned again before bandaging. Care instructions are given verbally along with written instructions handed to each client.
Randy Culver and his artists are often visited by individuals who have had inferior tattoos done elsewhere. Many of these unfortunate individuals come seeking modifications of messes, the cover-up of smudges, misshapen images, poorly placed tattoos, or poor workmanship. In all cases, considerable improvement results, and clients leave smiling.
ACE TATTOO & PIERCING proudly displays its tattooing license, issued by the Hennepin County Health Department. The tattooing of minors is prohibited and state-wide regulation is imposed. All clients must provide a valid photo I.D. before receiving tattoo or piercing services (i.e. driver's license, state I.D., military I.D., passport, or school I.D. with birth certificate). For piercings, minors must be accompanied by a parent or a legal guardian with valid I.D. and proof of guardianship. If the minor's I.D. is a state I.D. and the last name and address match that of the parent's state-issued photo I.D. no further paperwork is necessary. If the minor has a school I.D. or passport or a state I.D. where the names and addresses do not match, then a birth certificate is required. Call with any questions regarding this matter. ACE TATTOO & PIERCING and the state of Minnesota prohibit anyone under the age of 18 to be tattooed.
Randy Culver has reached notoriety for his creativity, experience, generosity, and gentle approach to his clients. The shop minimum at ACE TATTOO & PIERCING is a modest $80.00. The hourly rate is a reasonable $140.00 per hour. These affordable prices can be maintained due to the shop's stability and longevity. An appointment is needed for service. For custom or large-scale work, a priority booking can be made by leaving a $100.00 deposit.
Clients can relax as their tattoos are applied by caring, conscientious tattoo artists at Randy's establishment. Whether you are in search of clean, fresh artwork or eager to rehab old ink that has seen better days, ACE TATTOO & PIERCING is the place to come with its gentle approach that sets first-timers at ease and welcomes old friends. Randy possesses self-assuredness earned through many years of excellence. He rolls ink into the skin with a mastery that none other can claim. Randy continues to learn his craft each day, guided by a steady flow of ideas and a tattoo artist's understanding of tones and colors. Randy will not apply a bad tattoo or rush the application of his art. Professional ethics and high personal principles have served him well and he expects nothing less from the artists he has working for him.
From monograms to mermaids, dolphins to dinosaurs, snakes to sunsets, birch trees to birth dates written in hundreds of different typefaces, eagles, butterflies, flowers, tribal, tigers, turtles, roses, flames, fawns, trains, octopi, cherry blossoms, checkerboards, logos, cancer ribbons, quotes and scripture, leopard prints, puma prints, paw prints, handprints, footprints, clowns, skulls, hearts, infinity symbols, astrological signs, feathers, fauna, memorials, text and poetry, Kanji symbols, cartoons,  wings, filigree or your own artwork, Randy and his artists can accommodate most client requests.
The days of being uncomfortable getting a tattoo is over. ACE TATTOO & PIERCING has a topical numbing cream anesthetic that offers considerable, if not total, relief from discomfort during a procedure. Call with any questions you may have.
If it is a piercing you are looking for or you want to change out an existing piece of jewelry you must come to ACE TATTOO & PIERCING. Randy has been piercing for as long as he has been tattooing and has implemented many procedures using custom tools made especially for the ease, speed, and comfort of his customers. Whether it is a nose piercing with a stud or ring, an ear-piercing or surface piercing, a nipple piercing, or a genital piercing, Randy is experienced in all types. If you have an issue with a piercing or piece of jewelry it can be easily remedied at a minimal cost.
See our "Piercing Prices" page which lists all the individual piercings that are available and the price for each.
Whether you live in Crystal, Golden Valley, Maple Grove, New Hope, Plymouth, or any of the surrounding areas of Minneapolis and St. Paul, make ACE TATTOO & PIERCING your "go-to" place for your tattoo and piercing needs.
 ACE TATTOO & PIERCING is conveniently located on the southeast corner of Hwy. 169 and Medicine Lake Road in Golden Valley, Minnesota. Our address is 2504 Hillsboro Ave. No., Golden Valley, MN 55427. Our phone number is (763) 595-8484 for any questions you may have. If you want a piercing call us and make an appointment. The first thing to do if you want a tattoo is to send us an image of what you want including the size in inches, your name, phone number, and where it will be placed on your body. To text an image that you would like send it with the same information as an email to 904-738-9555 and we will get right back to you.
Hours:
Monday, Tuesday, Wednesday, Thursday: Noon to 8:00 PM
Friday & Saturday: Noon to 10:00 PM
Sunday Noon to 6:00