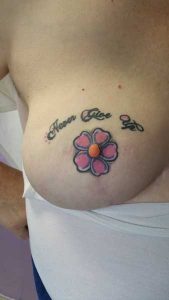 ACE TATTOO & PIERCING offers breast cancer warriors, women who have battled mastectomies, extremely detailed nipple areola tattooing. Implants have given you back your shape. Let ACE TATTOO & PIERCING give you back your nipples and areolas using our detailed tattooing techniques in a safe, sterile and attractive environment.
You can never replace your real breast but at ACE TATTOO & PIERCING breast cancer survivors can find comfort in knowing they can have the next best thing.
The process doesn't hurt too much since a lot of your sensation is lost during surgery. It only takes about an hour but the impact lasts a lifetime. Each case is unique and offers a different challenge. It will be the final step in your reconstruction process.
Some daring survivors have even gotten shamrocks, flowers, butterflies or pink ribbons in place of a regular nipple. It's a small way to reclaim a life threatened by cancer. Our artists are not only extremely talented but possess great empathy.
Please contact us with any questions you may have or stop in for a consultation. We will be happy to speak with you.